Team Ireland will come home from the Czech Republic with 7 medals, following two excellent days of boxing at the Usti nad Labem Grand Prix.
On the opening day, Team Ireland recorded a clean sweep of 6 wins from 6 bouts for Jennifer Lehane, Michaela Walsh, Aoife O'Rourke, Dean Clancy, Dean Walsh and Kelyn Cassidy.
In today's Quarter Finals, 50kg Daina Moorehouse opened proceedings for Team Ireland, contesting against Poland's Natalia Roik. The Wicklow boxer came away with a 4-1 win, and at least a bronze medal. She boxes for a place in the final tomorrow, against the USA's Jennifer Lozano.
54kg Jennifer Lehane recorded her second win of the tournament today, at a podium finish, following her 5-0 win over the USA. She meets Argentine's Sandra Drabik in bout 2 of the semi finals.
75kg Aoife O'Rourke is also two for two, following her opening bout win over USA and today's victory over Germany. She will meet Norway's Sunniva Hofsted on Saturday.
57kg Michaela Walsh also claimed her second win of the competition today, over Finland. France and Brazil have withdrawn their boxers, and Michaeal receives a double walkover in the semi finals – she'll contest her final on Sunday.
51kg Sean Mari met the Jordan Roach of the USA in his quarter final, and put in a valiant effort. His interest in the tournament ends, following a decision in favour of his opponent. 57kg Jude Gallagher suffered a similar fate against USA world champion, Jahmal Harvey.
63.5kg Dean Clancy contested against Germany – he has secured a bronze medal and a place in tomorrow's semi final. He meets home boxer, Petr Novak, in bout 18.
71kg Dean Walsh, having recorded a preliminaries win over a Czech boxer, ends his tournament at the QF stage, following a decision in favour of his opponent, Poland.
Heavyweight, Jack Marley, has a bye to the semi finals and makes his tournament debut on Saturday, against Slovakia, in bout 24.
66kg Amy Broadhurst has been withdrawn, through illness. And, having won his opening bout, Kelyn Cassidy was withdrawn because of a facial injury.
Semi Finals programme:
Team Ireland
51kg Sean Mari, Monkstown D BC
57kg Jude Gallagher, Two Castles BC
63.5kg Dean Clancy, Sean McDermott BC
71kg Dean Walsh, St Ibars/St Joseph's BC
80kg Kelyn Cassidy, Saviours Crystal BC
92kg Jack Marley, Monkstown D BC
50kg Daina Moorehouse, Enniskerry BC
54kg Jennifer Lehane, DCU BC
57kg Michaela Walsh, Emerald BC
60kg Kellie Harrington, St. Mary's BC
66kg Amy Broadhurst, St Bronagh's ABC
75kg Aoife O'Rourke, Olympic BC, Galway
Head Coach: Zauri Antia
Coach: John Conlan
Coach: Eoin Pluck
Coach: Damian Kennedy
R&J: Mal Scott
Physio: Rob Tuomey
Physiologist: Paula Fitzpatrick.
Draws are available here
Preliminaries results – Ring A
Preliminaries results – Ring B
Quarter Final results – Ring A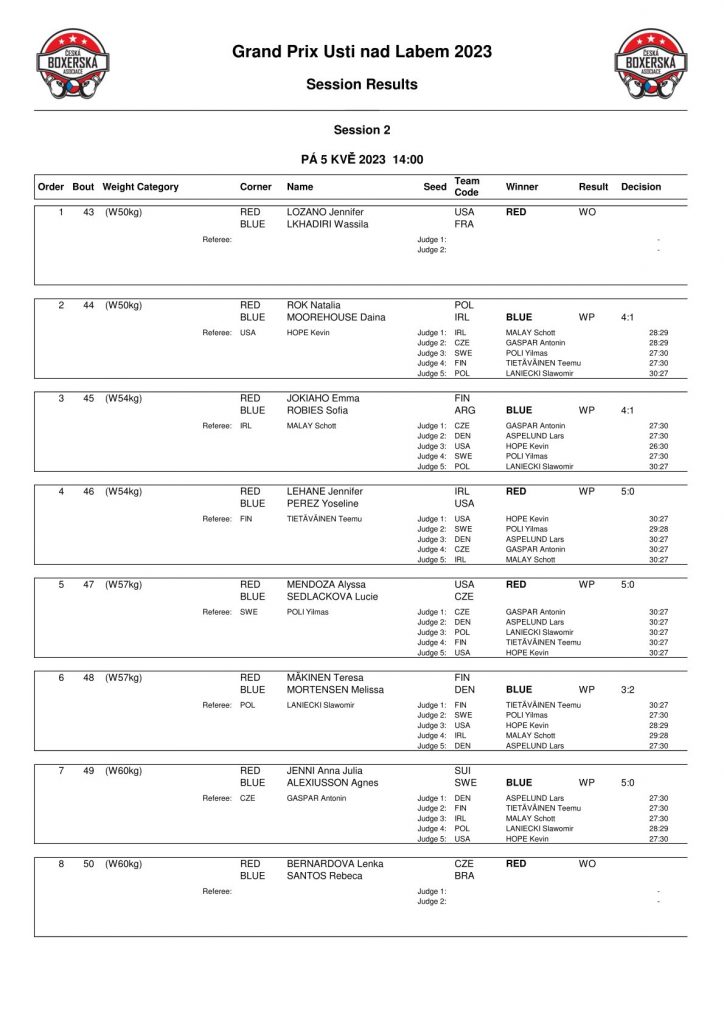 Quarter Final results – Ring B