Irish boxing improved to 34 medals from four European competitions so far this year at the European Schoolboy/girl Championships in Tbilisi, Georgia last weekend.
The count for 2019 now stands at 6 gold, 9 silver and 19 bronze.
Ireland finished in top ten – top five on three occasions – positions in the medals table at the European U/22s, European Games, European Juniors and European Schoolboy/girls.
Kurt Walker claimed gold at the European Games, an AIBA ranking tournament, in June and current World Elite champion Kellie Harrington and Michaela Walsh took home double silver, with Regan Buckley and Michael Nevin winning double bronze at the 2nd edition of the Games which was also doubling up as the European Men's Elites.
Amy Broadhurst won the first of Ireland's six gold medals at the European U/22s on St Patrick's Day, which is also her birthday, in Russia.
Chloe Gabriel and Michael Donoghue earned a brace of European Junior gold's and Adam Olaniyan and Caoimhe Kinsella topped their respective podiums at the European Schoolboy/girl Championships in August.
Meanwhile, Irish boxing is gearing up for two final Continental outings at the European Women's Elites in Madrid, Spain (August 22/September 1) and European Men's and Women's Youths in Sofia, Bulgaria (September 1/11).
The World Men's and Women's Elite Championships will be decided in Ekaterinburg, Russia (September 7/21) and Ulan-Ude (October 3/13) before the curtain comes down on eight months of intense international competition leading into the Tokyo 2020 qualifiers.
The European qualifiers for the 32nd Olympiad will be hosted at a venue and date to be confirmed in London next Spring. There will be one World qualifier in Japan early next summer.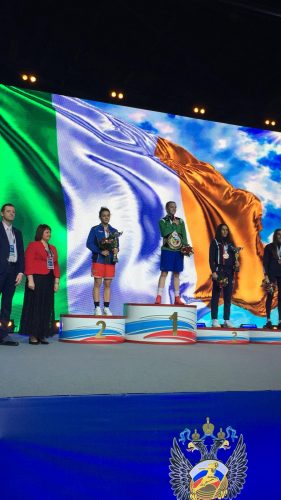 European U/22 Men's & Women's Championships Vladikavkaz, Russia (March 8/17)
Irish squad
Female

51kg Niamh Earley (Ryston)
57kg Mary Geraghty (St Anthonys)
60kg Amy Broadhurst (Dealgan) (Gold)
64kg Shauna O'Callaghan (Clann Naofa)
75kg Aoife O'Rourke (Castlerea) Cpt
Male
52kg Adam Hession (Monivea)
60kg Davey Oliver Joyce (Ballymun)
64kg Pierce O'Leary (Dublin Docklands)
69kg Patrick Donovan (OLOL)
75kg Gabriel Dossen (Olympic) Cpt
Team Manager: Stephen Molloy
Head Coach: Dmitry Dmitruk
Coaches: Anita Just, Philip Keogh
R&J: Stephen Kelly
Medals Table Finish: 9th
Rankings Table: 10th
Nations competing: 38
European Male and Female Junior Championships Galati, Romania (May25/June 1)
Irish squad
Female
46kg Breda Quilligan (Rathkeale)
48kg Robyn Kelly (Ballynacargy) (Bronze)
50kg Chloe Gabriel (Mulhuddart) (Gold)
52kg Rachael Lawless (Portlaoise) Cpt
54kg Aaliyah Butler (Monivea) (Bronze)
57kg Nicole O'Sullivan (Corinthians)
60kg Shelby Myres (Crumlin)
63kg Winnie McDonagh (Neilstown) (Silver)
66kg Tiegan Farrell (Arklow) (Bronze)
70kg Shauna Doherty (Sacred Heart, Dublin)
75kg Dearbhla Tinnelly (Clann Naofa) (Bronze)
80kg Margaret Stokes (Callan)
Male
46kg Dylan Eagleson (St Pauls, Antrim)
48kg Michael Donoghue (St Michaels Athy) (Gold)
50kg Jason Nevin (Olympic Mullingar)
52kg Donagh Keary (Rathfirland)
54kg Mustafa Edris (Monkstown, Dublin)
57kg Martin McCullough (Gleann) (Bronze)
60kg Michael McCarthy (Mayfield)
63kg Thomas King (Ratoath)
66kg Taylor Guiney (Drimnagh) (Bronze)
70kg Eoghan Lavin (Ballyhaunis) Cpt
75kg Mark Duffy (Charlestown)
80kg John Ward (Brosna)
80+kg Thomas McDonnell (Docklands)
IABA President: Dominic O'Rourke
Team managers: Eugene O'Kane Snr and Anne Murphy
Coaches: Billy McClean, James Doyle, Gerard McDaid, John Gallagher, Aoife Hennigan
R&J: Loughlin Gannon
Medals Table Finish: 5th
Rankings Table: 3rd
Nations competing: 35
European Games Minsk, Belarus (June 22/30)
Irish squad
Female
57kg Michaela Walsh (Monsktown A) (Silver)
60kg Kellie Harrington (St Marys) (Silver)
69kg Gráinne Walsh (Spartacus) (Bronze)
75kg Aoife O'Rourke (Castlerea)
Male
49kg Regan Buckley (St Teresa's) (Bronze)
56kg Kurt Walker (Canal) (Gold)
64kg James McGivern (St George's)
69kg Kieran Molloy (Oughterard)
75kg Michael Nevin (Portlaoise) (Bronze)
91kg Tony Browne (St Michael's Dublin)
91kg+ Dean Gardiner (Clonmel)
Team manager: Bernard Dunne
Coaches: Zaur Antia, John Conlan, Dmitry Dimitruk
Medals Table Finish: 5th
Rankings Table: (Not available)
Nations competing: 44
2019 European Schoolboy/girls Championships Tbilisi, Georgia (August 4/11)
Irish squad
Male
38.5kg Kai Ducque Griffin (Drimnagh)
40kg Roy Farrelly Colgan (Avona) Captain (Bronze)
41.5kg Sean Tyndall (Dublin Docklands) (Silver)
43kg Kyle Thomas Smith (Holy Trinity)
44.5kg Malo Davis (Monkstown Dublin)
46kg Blaine Fitzgerald O'Sullivan (Corinthians)
48kg Padraig Flynn Stapleton (Monkstown Dublin)
50kg James O'Reilly Thornhill (Togher)
52kg Lee McEvoy (Avona)
54kg Cole Byrne (Enniskerry)
56kg Laurence Connors (St Mary's Dublin) (Bronze)
59kg Patrick Stokes (St Johns Derry)
62kg Micheal McCarthy (Urlingford) (Silver)
68kg Thomas Ward (Carrickmore) Vice Captain (Bronze)
72kg Ryan Collins Murphy (Neilstown)
76kg Caolan Devlin (Mark Heagney) (Bronze)
80kg Bernard Cawley (St Davids Naas)
90kg Adam Olaniyan (Jobstown) (Gold)
90kg+ Danny O'Brien (Shadows)
Female
36kg Carlagh Mullarney (Ballyhaunis) (Bronze)
38kg Caoimhe Kinsella (St Anthony's/Pats) (Gold)
40kg Shakira McCrudden (Riverside) (Bronze)
42kg Katie O'Keeffe (Kanturk) (Silver)
44kg Esther Lambe (Setanta) (Silver)
46kg Carleigh Irving (Illies Golden Gloves) (Bronze)
48kg Nora Jackman (Paulstown) (Bronze)
51kg Georgia Dunne McGovern (Drimnagh) Captain (Silver)
54kg Niamh Keogh (Olympic Mullingar)
57kg Alicia King (Ratoath Golden Gloves) (Bronze)
60kg Gabrielle Mongan (Whitechurch) (Bronze)
64kg Ava Rose Henry Lyndon (Glin) Vice Captain (Silver)
70kg Breanna Ryan Tobin (Spartan)
Officials
IABA President: Dominic O'Rourke
Team Managers: Stephen Connolly & Jennifer O'Sullivan
Coaches: Eve Carr,Patrick Gallagher, James O'Neill, Martin Donovan, Killian Walsh, Paul Archbold
Medals Table Finish: 5th
Rankings Tables Finish: 4th
Nations competiting: 30