Ireland's European standing improved to ten medals so far in Continental competition this year, courtesy of the Irish squad at the European Boys and Girls Junior Championships in Galati, Bulgaria.
Amy Broadhurst claimed our first gold of 2019 on St Patrick's Day, which happens to be her birthday, at the European Men's and Women's U/22 Championships in Vladikavkaz in March.
And the Boys and Girls in Green followed that up with nine medals in Galati.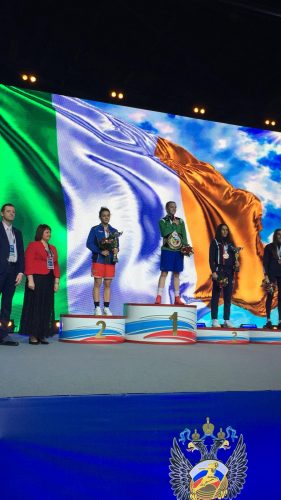 The count so far is three gold, courtesy of Broadhurst, Chloe Gabriel and Michael Donoghue, one silver and six bronze.
Ireland finished 9th and 10th in the medals and rankings table in Vladikavkaz and 5th and 3rd in the medals and rankings table in Galati.
2019 European U/22 Men's and Women's Championships Vladikavkaz, Russia
Irish squad
Female
51kg Niamh Earley (Ryston)
57kg Mary Geraghty (St Anthonys)
60kg Amy Broadhurst (Dealgan) (Gold)
64kg Shauna O'Callaghan (Clann Naofa)
75kg Aoife O'Rourke (Castlerea) Cpt
Male
52kg Adam Hession (Monivea)
60kg Davey Oliver Joyce (Ballymun)
64kg Pierce O'Leary (Dublin Docklands)
69kg Patrick Donovan (OLOL)
75kg Gabriel Dossen (Olympic) Cpt
Team Manager: Stephen Molloy
Head Coach: Dmitry Dmitruk
Coaches: Anita Just, Philip Keogh
R&J: Stephen Kelly
Medals Table: 9th
Team Rankings Table: 10th
Nations: 38
———
European Male and Female Junior Championships Galati, Romania, May 22/June 2
Irish squad
Female
46kg Breda Quilligan (Rathkeale)
48kg Robyn Kelly (Ballynacargy) (Bronze)
50kg Chloe Gabriel (Mulhuddart) (Gold)
52kg Rachael Lawless (Portlaoise) Cpt
54kg Aaliyah Butler (Monivea) (Bronze)
57kg Nicole O'Sullivan (Corinthians)
60kg Shelby Myres (Crumlin)
63kg Winnie McDonagh (Neilstown) (Silver)
66kg Tiegan Farrell (Arklow) (Bronze)
70kg Shauna Doherty (Sacred Heart, Dublin)
75kg Dearbhla Tinnelly (Clann Naofa) (Bronze)
80kg Margaret Stokes (Callan)
Male
46kg Dylan Eagleson (St Pauls, Antrim)
48kg Michael Donoghue (St Michaels Athy) (Gold)
50kg Jason Nevin (Olympic Mullingar)
52kg Donagh Keary (Rathfriland)
54kg Mustafa Edris (Monkstown, Dublin)
57kg Martin McCullough (Gleann) (Bronze)
60kg Michael McCarthy (Mayfield)
63kg Thomas King (Ratoath)
66kg Taylor Guiney (Drimnagh) (Bronze)
70kg Eoghan Lavin (Ballyhaunis) Cpt
75kg Mark Duffy (Charlestown)
80kg John Ward (Brosna)
80+kg Thomas McDonnell (Docklands)
IABA President: Dominic O'Rourke
Team managers: Eugene O'Kane Snr and Anne Murphy
Coaches: Billy McClean, James Doyle, Gerard McDaid, John Gallagher, Aoife Hennigan
R&J: Loughlin Gannon
Medals Table: 5th
Team Rankings Table: 3rd
Nations: 35