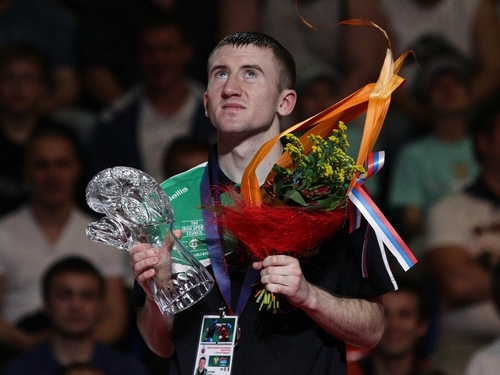 From Russia with glove.
Two-time Olympic medalist Paddy Barnes has revealed that his favourite medal was the European title he won at the Ice Palace in Moscow in 2010.
"For me, it's the European gold," said Barnes when asked which of his titles and medals meant the most.
"The Olympic Games are obviously massive and get lots of media coverage.
"But ask anyone in boxing and they will tell you that the European Championships are the hardest competition to get a medal at.
"Nobody from western Europe was winning medals at those championships back then. They were dominated by the eastern European countries so for me to go to Russia and win gold was hands down."
2010 European Elites Russia
49kg Paddy Barnes Gold
75kg Darren O'Neill Silver
57kg Tyrone McCullough Bronze
60kg Eric Donovan Bronze
81kg Ken Egan Bronze
Barnes' gold in Russia – and medals for Darren O'Neill, Tyrone McCullough, Eric Donovan and Ken Egan – helped Ireland finish in 2nd spot in the medals table.
The Ulster High-Performance coach added that his amateur career was more enjoyable than his relatively brief pro innings.
"My amateur days were definitely my happiest. You travelled the world representing your country, picking up medals for your country and carrying flags for your country," he added.
"You couldn't buy experiences like that. It was unbelievable. My dream was to win the Olympic Games, which I didn't do, but I think I did OK to win two medals.