Team NI have claimed 7 medals at the Birmingham Commonwealth Games, following two days of Quarter Final action, and Olympian Micheala Walsh entered the history books in the process by becoming a 3-time CWG medallist.
The team includes 2022 World Champion, Amy Broadhurst and 2022 European silver medallist, Dylan Eagleson, along with three 2018 Gold Coast Games silver medallists, in Carly McNaul and Aidan and Michaela Walsh, now Olympic bronze medallist and Olympian, respectively. Carly and Michaela are both ranked 5th in the world in their respective weights, following their contesting of the Women's World Championships while 70kg, Eireann Nugent, is contesting her first tournament after 11 years away from competitive boxing.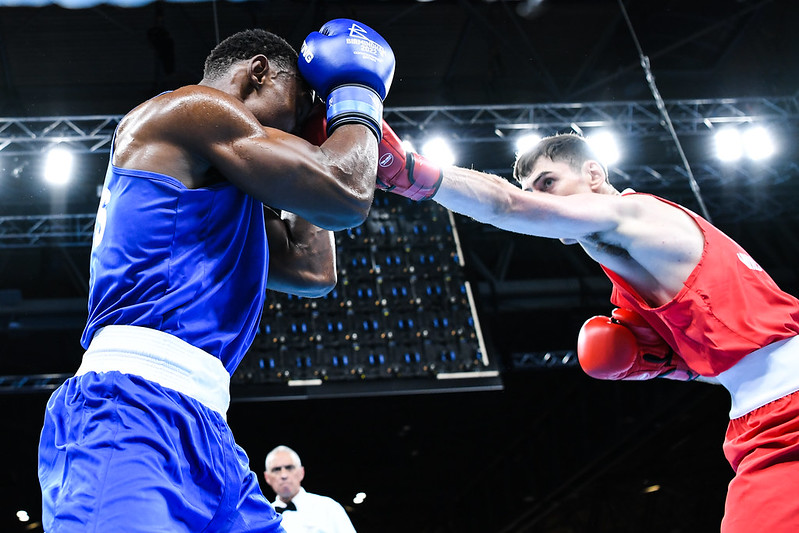 5 boxers were in action today, beginning with 54kg Dylan Eagleson, contesting against Mozambique – he was he UD winner, after stylish performance. Michaela Walsh was similarly dominant, with the same 5-0 decision, in her QF against Botswana. Aidan Walsh, contesting at 71kg, recorded a 3-2 split decision win over England. 51kg Clepson dos Santos Paiva's interest in the tournament ended following a round 3 RSC against Wales. While World Champion Amy Broadhurst, contesting the games at 60kg, was declared the winner in her QF against following a third round RSC.
Team NI Performance Lead, John Conlan, says "Northern Ireland has a remarkable track record at the Commonwealth Games and we're targeting building on that, and on the experience in the Cold Coast Games. Members of this team have contested strongly at European and World level already this year, and have taken part in training camps in England, Italy and our own highly successful 10-nation CWG camp in Jordanstown, in addition to their on-going High-Performance training. I'd like to recognise, too, the contribution of clubs and club coaches to boxers' training in advance of these games. Our boxers are making their mark in Birmingham and have turned in incredible performances in the tournament so far. They're ready to vie to change the colour of their hardware"
Boxing is Northern Ireland's most successful sport at the Commonwealths with 61 medals, including 13 golds, 19 silvers and 29 bronze medal bronze, prior to the 2022 games.
High Performance Head Coach, Zauri Antia, says "This is a very strong team. The exceptional performances in this competition, and 7 medals already assured, are testament to the quality of preparations for the Commonwealth Games."
Team NI Semi-Finals schedule, Saturday, August 6th:
11:45am: 70kg Eireann Nugent V. Rosie Eccles of Wales
2:30pm: 50kg Carly McNaul V Teddy Nakimuli of Uganda
3:00pm: 54kg Dylan Eagleson V. Matthew McHale of Scotland
3:45pm: 60kg Amy Broadhurst V Cynthia Ogunsemilore of Nigeria
4:30pm: 71kg Aidan Walsh V. Garan Croft of Wales
7:15pm: 57kg Jude Gallagher V Keoma-Ali Al-Ahmadieh of Canada
7:30pm: 57kg Michaela Walsh V Phiwokuhle Sbusisiwe Mnguni of South Africa
All tournament reports, reports and schedules are available here
N.I Commonwealth Team:
48kg Nicole Clyde, Antrim BC – Quarter Finalist
50kg Carly McNaul, Ormeau Rd BC – Medallist
51kg Clepson Paiva, Holy Trinity BC– Quarter Finalist
54kg Dylan Eagleson, St. Paul's BC– Medallist
57kg Michaela Walsh, Emerald BC- Medallist
57kg Jude Gallagher, Two Castles BC– Medallist
60kg Amy Broadhurst, St. Bronagh's BC– Medallist
63.5kg JP Hale, Star ABC
67kg Eugene McKeever, Holy Family BC, Drogheda
70kg Eireann Nugent, Immaculata BC– Medallist
71kg Aidan Walsh, Emerald BC– Medallist
75kg Jake Tucker, Emerald BC
Performance Lead: John Conlan
Head Coach: Damian Kennedy
Coaches:
Liam Corr
Rory McShane
Jay Delaney
Support Team
Damian Martin
Lorcan McGee