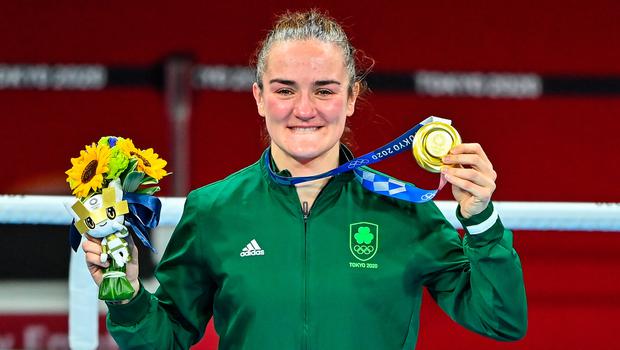 ________________________________________________________________________________________________________________________
The Officer Board of the IABA would like to offer our congratulations to our new Olympic Champion Kellie Harrington on her tremendous achievement.

Kellie has shown that hard work and perseverance pay off. Kellie had to wait for her opportunity as during the last two Olympic cycles, another gold medalist in Katie Taylor assumed the number one ranking in the lightweight division. Despite this, Kellie proved her abilities in the light-welterweight division and medalled there at world level whilst waiting for the chance to shine at her natural weight division.

When the occasion came, Kellie didn't disappoint. She won medals at European Championships and European Games before going on to claim a much deserved World Championship Gold medal in the lightweight division. This achievement further inspired her to go one step further and reach for the ultimate goal of becoming Olympic Champion.

On the long and winding road, Kellie always remained positive and her coaches along this journey helped her progression. Her current club coach Noel Burke in St. Mary's B.C. has been instrumental in her push for success. His attention to detail in all aspects of her training has furthered her development into the best boxer in the world.
The High Performance coaches Zaur Antia, John Conlon and Dmitry Dmitruk, under the guidance of Bernard Dunne as H.P. Director, have provided an environment in which Kellie could further hone her skills and test herself against world class opposition in both training camps and International competition. 

She has now achieved what many boxers and other sports people can only dream about. She has scaled her Everest and now every young sports person can look up to her as a shining example of what can be achieved with true determination. 

Kellie is an inspiration to everyone and she represents boxing in the way that it should be represented. She is humble, caring, selfless and never gets overawed, regardless of the situation. She truly is a credit to her family and to the sport of boxing. We are very proud of Kellie for everything she has done and to the rest of our boxing team also who brought pride to the country.

Paddy Gallagher 
National Secretary